Travel
HOW DO YOU AFFORD TO TRAVEL
Travel not to escape life, but for life not to escape you
When most people learn about my passion for travel and the frequency in which I travel, the question I often get is, "How do you afford to travel so much?" Followed by, "What do you do for a living that allows the jet setting lifestyle?"  Some people are genuinely curious and want to know so that they too can learn how – my favorite kind:)  Some ask the questions with a raised brow suggesting a myriad of ways.  My least favorite kind are the ones blatant enough to spell out their misguided assumptions e.g.
a:  Mysterious rich man pays for the trips *rolls eyes*  If this was the case, my frugal travel ways would be tossed out the window and I would be having the most kick-ass getaways! Heck, I would never be home!
b: I'm a drug mule!  I'm not kidding! A co-worker asked me this with a straight face! Have you seen an episode of Locked Up Abroad?  Why would I want to put myself through that?  There is still so much of the world to see and I need to be FREE to explore it.
I don't have tons of money at my disposal.  I'm very transparent when it comes to sharing how I am able to travel for cheap to anyone who asks.  Sharing is caring and I do care about you my reader:)
This year,  I've been fortunate enough to visit the following destinations – not including domestic travel:  Dubai, Abu Dhabi, cruise to Bahamas, Rome, Mykonos, Barcelona and Istanbul.  I also have an upcoming trip to Bali with a stop in Tokyo.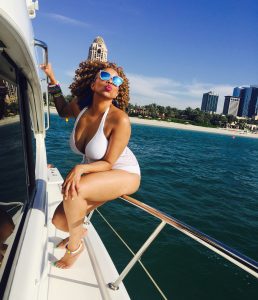 Dubai – March 2016 aboard a yacht by Luxury Sea Boats Charter
In the interest of full disclosure,  I do have a full time job in the Hospitality industry and have been at the same job for close to 10 years!  I have earned myself somewhat decent vacation time compared to the average person in corporate America. But that alone doesn't cut it. Here's how I have been able to travel to multiple destinations over time for way less that you would imagine:
1. PRIORITIES
We all have priorities.  Ways in which we appropriate our funds.  Over the past few years, my preferences on how I spend my hard earned savings have changed a great deal! I'd rather buy experiences *read: trips/excursions* rather than things. Experiences last a lifetime, things, not so much.  I am also pretty frugal and hardly care for designer labels.  I used to want the latest, greatest trend/thing/gadget etc only to have buyers remorse few days/months after acquiring said items as they did not bring the fulfillment I was seeking. Most of these things would end up just sitting in the closet anyway.  I am yet to regret purchasing a trip over an item.  Travel is truly the only thing you buy that makes you richer! This past summer I was able to purchase a return ticket to Barcelona for $424 on Swiss Air.  A steal!  The trip was pretty spectacular and the cost to get there even better!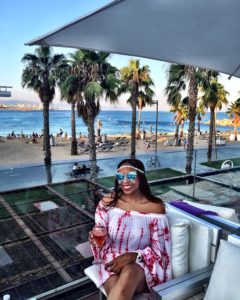 At the W – Barcelona
2. BARGAIN HUNTING
Gone are the days when travel was exclusive to the wealthy.  It is now more accessible than ever!  Technology has also made it so easy to hunt for flight/accommodation deals.  There are plenty of apps and websites available for this.  I never pay full price for anything if I can help it. My travels are no exception.   I have signed up for travel alerts with various websites where I learn fast hand, if there are glitch fares, insanely low prices on flights or a price drop on an itinerary I have been eying.  The key is to remain flexible.
To put it to perspective, earlier this summer, I received an alert for a return flight to Sydney, Australia from Atlanta at $500 inclusive of taxes and fees.  This is unheard of! Tickets for this itinerary run from $1700-$2300 depending on the season.   I actually paid about $1800 for my flight to Sydney two years ago during low season.  The $500 price tag was no glitch fare either! United Airlines was running a short-term promo for a new route on the Boeing 787 Dreamliner from USA to Australia.  Needless to say, it was sold out in no time! I did refer a few people who booked it.  They have since returned from down under with lifetime memories!  I find that it costs me way less to travel to an international destination than it does to fly domestic – thanks to these real time alerts and a flexible schedule.
Being in the hospitality industry has also helped me in terms of great savings.  One of the benefits being; deeply discounted rates on accommodation.  The amazing thing is that I'm able to extend the discount to my friends and family.  AirBnB has also been a great resource in finding amazing places for very reasonable pricing! I'm a HUGE fan of AirBnb!  I have used them multiple times this year.
At the Colosseum in Rome, Italy in August
3. LOW SEASON; LOW COST
I pay close attention to travel trends and as most people would know, travel in the Summer time is very popular.  Kids are usually out of school and family vacations are the norm. High season usually means high demand hence high prices.  The best flight deals are for travel during Spring and Fall.  Another advantage of travel during these times is less crowds at the airports and attractions while the weather is still favorable.  A win win!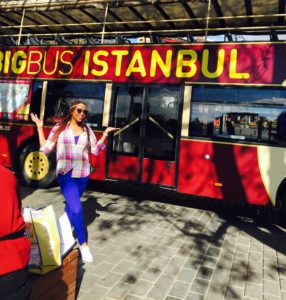 No crowds to beat in Istanbul…  There were 5 tourists on the entire bus!
4. FLEXIBILITY
Most of my trips are booked on a whim – based on the deal of the day that I receive.  I buy then plan! Some deals are usually too good to pass up. On Christmas Day of 2014, Etihad Airlines posted a glitch fare of $185 for a return flight to Abu Dhabi from New York with a 14 hour layover in Paris! It took them almost 12hrs to fix the error! They did honor the rates for the many that reserved it!  I lost out on this deal because I was waiting on friends to confirm their plans – something I will never do again!  See my solo travel post on why I have since stopped consulting others on travel plans.  The key is just to book the ticket, confirm your plans later! You have 24hrs risk free cancellation.   Glitch fares or insanely low fares are usually only available for a very short time.
I live in Atlanta and have noticed over time that most of these incredibly priced itineraries do not originate from ATL as we have fewer international airlines departing from the city.  I  constantly receive deal alerts from New York, Chicago, San Francisco and Dallas.  That does not stop me.  I usually cash in on my credit card points/miles to fly to those cities and take advantage of the deals. Changing your departure city allows you to enjoy some great deals! My friends and I flew from Chicago to Mykonos for $430 – return flight on Alitalia.  This itinerary also had a long over in Rome that allowed us to explore the city and spend a wonderful night there.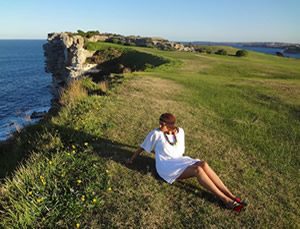 Sydney, Australia
5. POINTS FOR MILES/ACCOMMODATION
I saved my best method for last!  I have cashed in points for plenty of travel and free hotel stays.  This is how it works for me, I use 2-3 credit cards for all my purchases.  This includes everyday purchases that range from groceries, gas, utilities and even rent! My credit cards offer between 2-5 points per dollar spent on all purchases.  Basically, I get rewarded to spend money I would have had to spend anyway.  Using cash/debit card would get me nothing!  Since these are credit cards, discipline is required.  I pay off my credit cards within the month of purchase and no interest is accrued.  The points do add up quickly.  I convert most of my points to airline miles mostly for domestic travel.
Another great way I have earned a lot more points is by signing up for a credit card/s with great travel benefits.  Most of these cards have a great sign-in bonus once approved.  I have received more than 300K points in sign-in bonuses to date – the equivalent of $3000.  Thanks to The Points Guy blog for making me understand this practice! There is a set spend requirement on the cards to earn the points and some may have a hefty annual fee.  I chose the cards that work for ME. The benefits I have received have ranged from the huge Sign-In Bonus, Credit for Global Entry/TSA Pre-Check Application, $300 travel credit per year,  no luggage fees on domestic flights, No Foreign Transaction Fees abroad –  I do not spend my hard earned money on avoidable fees and neither should you! Airport Lounge Access all over the world, Free Night Stay at a 4-Star hotel on card's anniversary date and many more.
Again, this method is not for everyone! It requires financial discipline and organization to be successful. Get savvy and reap the benefits!
There you have it! I hope this sheds some light on my methods.  I hope that you too can incorporate some of them to allow more travel in your life!   Let me know if you have any questions or comments.   Happy Travels!
Vienna, Austria