How have you been? Honestly, how are you doing? This is a loaded question for many including myself. I have been through all kinds of emotions during this pandemic.
2020 began full of promise.  It was the year of the return to traveling for me.  I had missed everything about traveling. I took a break from frequent international travel in 2019 to find a home here in Atlanta.  For someone who was always on the go, having a permanent residence felt like a lockdown of sorts, but a necessary one.  I needed a place to come home to after my travels.  An investment of sorts as well.
In 2017, I had quit my job to travel the world indefinitely.  This was an incredible experience.  One of the best experiences of my life.
I came back after 8 months away to attend a childhood friend's wedding and got a job offer shortly after, that I couldn't refuse.  Fast forward to March 2020 when I got laid off from the said job.  My position was impacted by the Covid-19 pandemic. I had 7 international trips, a few domestic trips and a travel conference planned.  The pandemic changed all that.
It was hard to adjust at first.  The thought of travel during a pandemic didn't sit well with me but being in lockdown was also taking a toll on my overall well being as a travel enthusiast. I needed a getaway somehow. New York came calling!  New York City had the highest numbers of Covid-19 cases in the country at the time and it was nerve-racking and felt irresponsible to think of even going there.
I went anyway. I took some of my own measures too.  This was my travel experience:
View this post on Instagram
It was the break I needed! It did my soul good.  To minimize exposure to Covid, my friends & I opted to rent a car to avoid using the subway or ride sharing options available.   We also needed the car to get to the Hamptons which is where we spent most of our time.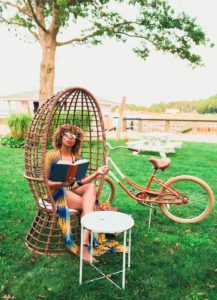 R&R in East Hampton, New York
WINTER ESCAPE
In December, I took my first international trip during the pandemic to Cabo San Lucas, Mexico.  I needed a winter escape and Mexico was one of the few places open to US Citizens. Proximity to Atlanta was important to me as I didn't want to be on a plane for too long.  Most international borders are still closed to US citizens. I took a 4 hour direct flight from Atlanta to Cabo.  Delta Airlines is my preferred airline for domestic flights.  I absolutely love how much they have stepped up during this pandemic with their safety measures put in place to combat the spread of Covid.  As of right now, middle seats will continue to be blocked until end of March.  I am hoping for an extension on that.
Mexico did not require a Covid-19 test prior to entry.  I took one anyway to be sure I wasn't asymptomatic and spread the virus unknowingly. We all have to play a part to be responsible travelers. I took a second one when I got back home.  I did notice that the resorts and establishments I visited while in Mexico took Covid prevention methods very seriously.  My suitcase was sanitized before being brought to the guest room.  There were sanitation booths and door mats everywhere.  Masks were required to be on at all times except while eating/drinking.   I did feel a lot safer in Cabo than I do in Atlanta.
View this post on Instagram
While traveling won't look the same for a while, it can still be done safely and responsibly.
You can also opt to go for a road trip to explore your own backyard.  Road trips have become increasingly popular during this pandemic as most people are still too anxious to fly. Road trips are great for bonding with family and friends or even solo adventures.  The best way to explore a destination is usually by road.
Have safe and happy travels ahead!